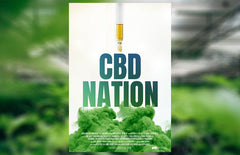 So you want to learn about Cannabidiol (CBD)...you've come to the right place. We've compiled a complete CBD guide with books and movies that will help to enhance your knowledge and better understand how to integrate CBD into your life. Many of the readings provide in-depth profiles of persons with reported relief and healing from common health conditions after using Cannabis. Whether you're new to hemp or an expert, our compilation has recommendations for skeptics and avid users.
This film is unlike any other, as leading experts, doctors and users share their testimonies and journeys with CBD. Director, producer and editor, David Jakubovic was an initial CBD cynic, but turned into a CBD champion after embarking on this project filled with science-based research. This film is great for those who are new to CBD and want to get a brief history and the present situation in the United States. 
PHOTO: AMAZON
Understanding Cannabis and all the plant's properties can be confusing at first. If you are interested in using CBD or medical cannabis as part of your wellness or treating medical conditions, this can provide a clear picture. Written by Dr. Dani Gordon, The CBD Bible helps the reader to establish a foundation, history and scientific understanding of Cannabis sativa; and then dives into the benefits of CBD to treat different ailments. 
PHOTO: AMAZON
There are many ways to get creative with CBD for your wellness. This book is filled with 75 recipes for use in and out of the kitchen. From beauty masks to beverages; from dog treats to snacks--you will find many ways to go beyond just using CBD oil. If you're worried about how much is too much, their dosing guide is a perfect reference. 
What we know about Cannabis sativa today would not have been possible without the innovative research of Raphael Mechoulam. This documentary is an intimate look at Professor Mechoulam's life and commitment to finding the interactions between Cannabis and the human body. The good news is you can watch this for free on YouTube. 
PHOTO: TARGET
If you are trying to find balance in your health through CBD, this book is just what you need. Dr. Bonni Goldstein is known for supporting her patients who've complained of chronic conditions with Cannabis. In her book she covers 28 common conditions that have been improved by using Cannabis including cancer and insomnia among the list. This reading is meant to empower patients to make the best decisions for their health when conventional medicine has failed them.
PHOTO: AMAZON


In addition to covering safe treatments using medicinal cannabis, Leonard Leinow and Juliana Birnbaum cover a multitude of dosage recommendations and CBD effects. This book provides first hand interviews with voices of doctors who share case studies and anecdotal evidence of administering cannabidiol for many health conditions. This book is very unique as it is the first to offer guidance for using medicinal cannabis for animals. You will want to add this one to your reading list. 
PHOTO: AMAZON
This book is not for beginners who are interested in CBD, but for those who are professionals in the field. This collection offers research on the complexities of Cannabinoids and the endocannabinoid system (ECS). Edited by none other than Raphael Mechoulam, the 'Father of Cannabis Research', this is a must-have for academics looking to expand their knowledge on the latest landmark research for alternative therapies.